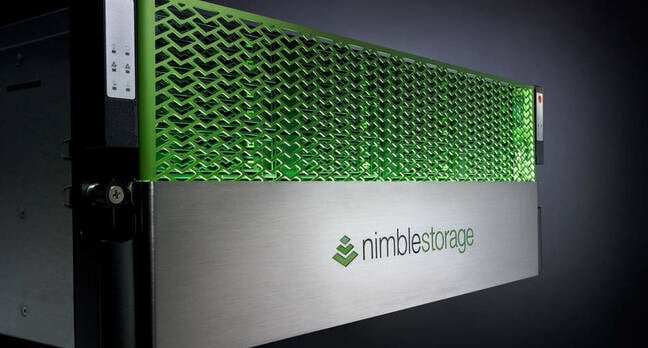 Nimble is regarded as a leader in hybrid storage arrays with an architecture able to achieve the speed of a flash array while providing the capacity of disk storage. Earlier this year, Nimble introduced a family of all-flash arrays and their most recent addition, the AF1000, is an entry-level all flash array starting just under $40,000.
The AF1000 can help you minimize your app-data gap with a low cost all flash array that delivers consistent sub-millisecond latency with the scalability and features Nimble is known for.
Scalability: The AF1000 scales up to more than 8PB capacity at over 1.2 million IOPS. Supporting two 24-slot capacity banks, it will scale up to 46TB raw, or more than 165TB effective. The AF1000 also scales up to four controller nodes spanning any generation of all flash or adaptive flash.
Non-disruptive Upgrades: Transition to all other AFA models without any down-time or data migration.
NimbleOS Data Services: All NimbleOS Data Services are fully functional and supported.
Always-on Inline Variable Block Deduplication and Compression
Unified Flash Fabric
Reliability of Nimble InfoSight Predictive Analytics: Collect millions of sensor data points per array every day to predict and prevent problems.
The AF1000 has the highest ranked resiliency rating in the industry at 99.9997 availability, (measured in uptime and data protection), and experiencing less than a millisecond of latency.
Computer Solutions is an experienced Nimble partner and is ready to help you design and implement a solution featuring this new flash technology. To get started, please contact your account manager.